Lact-Pack
Insight Technical Services has developed our latest product, the ITSI™ Lact-Pack.
The ITSI™ LACT Pack Controller is designed to open and close sales valves (bottom) and production valves (top) based on tank level heights. The control panel supports and controls up to 20 actuators in any combination of sales and production valves. It can operate in Sales Valve Auto-Mode, Sales Valve Manual Mode, and Weathering Mode. It includes Top Production Valve Control Auto Mode, and Top Production Valve Control Manual Mode for top tank production. It is equipped to communicate to local devices at the Tank Battery facility, such as a Lact Controller, a Flow Meter, Tank Level Sensors, Burner Controllers, and other local equipment.
A Color interface screen provides full on-site control and setup, while also allowing the Lact-Pack to be interfaced to a SCADA system for remote monitoring and control. It supports Modbus RTU and Modbus Ethernet communications.
Call for more information.
Its Pack Products
These products are off the shelf ready and ready to implement in your field today, and will easily integrate into your existing SCADA systems, or Insight can help you design and implement your own SCADA automation system around these products.
Battery-Pack
The Battery-Pack is a Tank Battery monitoring package that is offered in three different packages, for different tank monitoring applications. The differences are in the size of the tank battery facilities, number of tanks on location, and some of the local features required on location, which will vary per location. Although we do offer base unit products, we do offer customizations to fit a particular need.
Starter-Pack
The Starter-Pack is a product that links itself to the Batter-Pack. It typically goes at a remote well site that feeds product to the tank battery that the well is producing into. There are different variations of the Starter-Pack that cover different equipment that can be located at the well site for producing the oil and/or water. This can be an electric pumping unit, a gas pumping unit, or a hydraulic pumping unit.
Compressor-Pack
The Compressor-Pack is a full compressor control panel that can replace an old tattle-tail type panel on an existing compressor, or be put on a new compressor. There are two models of Compressor-Packs, one designed for most single stage compressors, and the second for multi-stage compressors. The advantage of the Compressor-Pack over other compressor monitoring and control panels is that it is also designed to monitor and control other functions at a wellhead location. We do also offer customizations to fit a particular need.
Cat-Pack
The Cat-Pack is a compressor catalyst monitoring system, which tells the customer when the catalyst is starting to plug up. This means that the compressor is running less efficiently and less environmentally clean. This allows the customer to replace it as soon as possible to stay in compliance to government standards. The Cat-Pack comes in three separate models that cover different types of jobs in the field. The first is the Cat-Pack 100 for single engine installations and is our economy model. The second is the Cat-Pack 200 which is for single engine installations and provides more features and capabilities than the 100. The Cat-Pack 300 provides the same functionality as the 200, but it is intended for multi-engine compressor stations.
All of these PACK products are designed to Integrate into Cygnet and Wonder ware based SCADA systems easily. We have developed the database templates and GUI screens and can help you bring the information and controls from these devices into your SCADA System easily and quickly.
ITSI Solar-Rack
ITSI has developed a secure heavy duty, eight battery solar rack designed for the O&G Production facilities. It has a protective locking system to help protect against battery theft. It is designed with quick battery disconnects for easy intallation and servicing. The wide door opening allows for easy of installation and doubles as a shelf for servicing.
The Solar-Rack can hold two 190 watt solar panels or a variation of other sizes. The battery box holds up to eight 110 amp batteries. Additional boxes can be chained togerther for more storage capacity.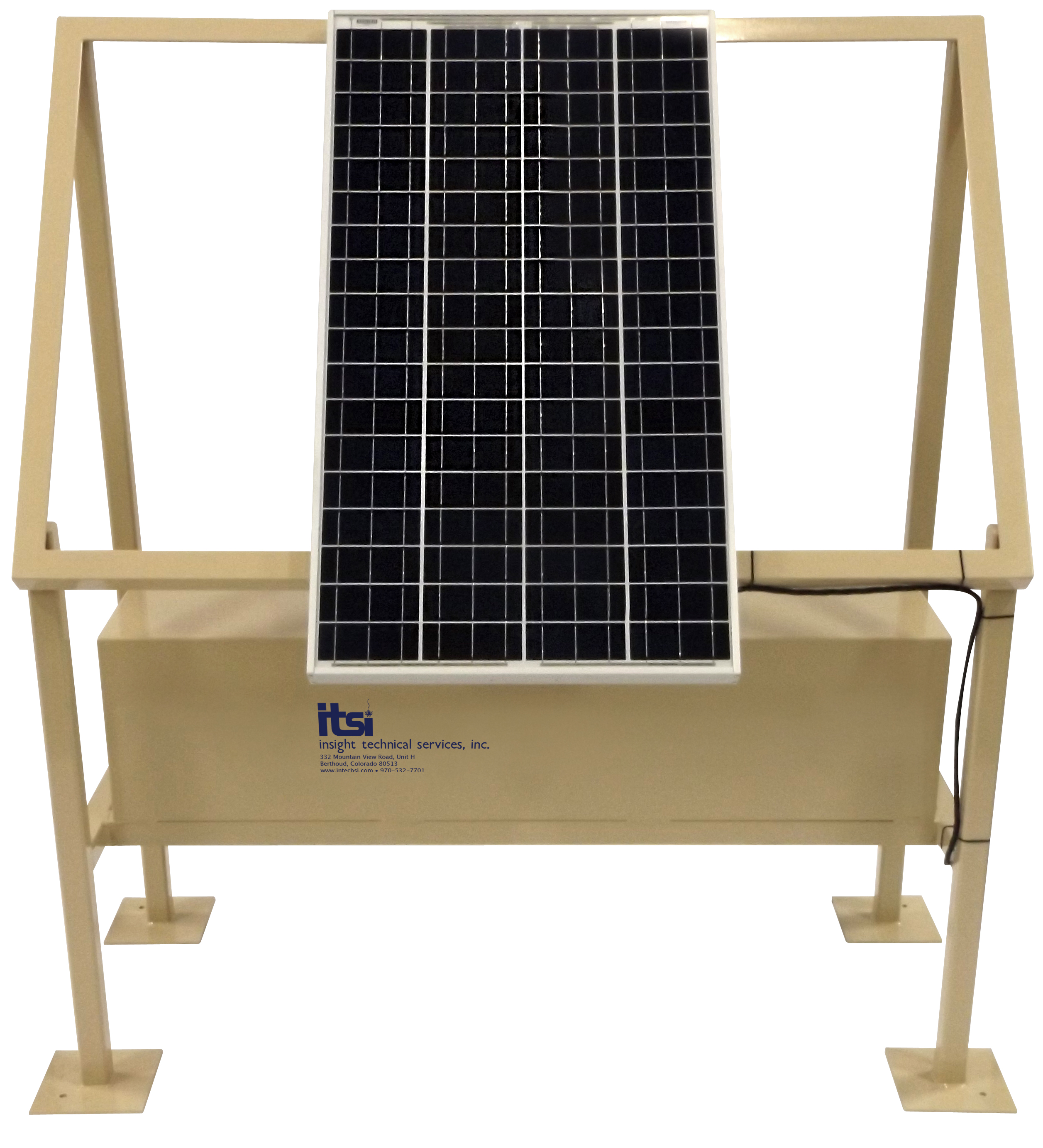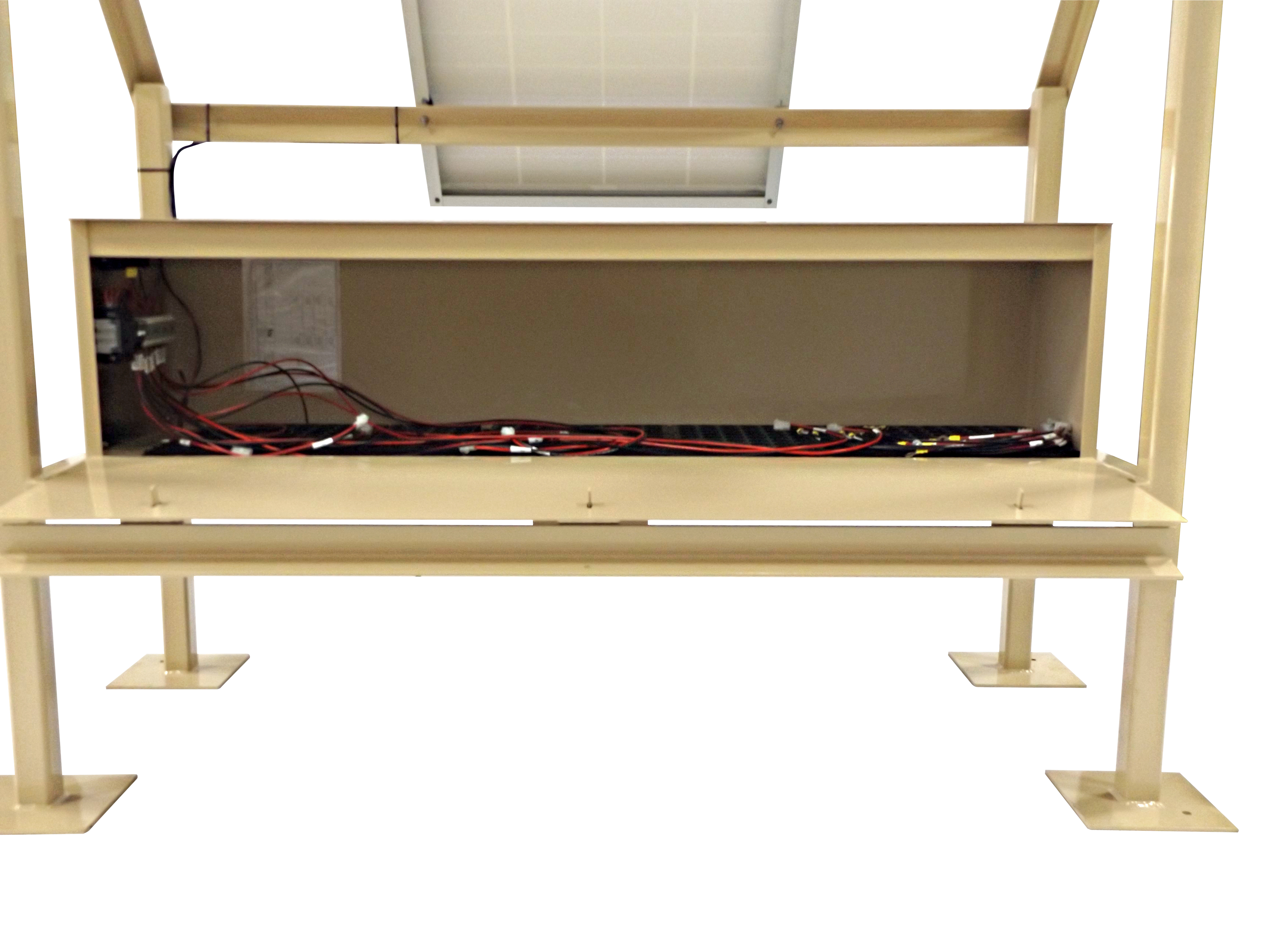 See more at ITSI SolarRack
2018 Trade Show Schedule
It is a new 2018 Trade Show Season. Below is the schedule of shows that we will be attending and setup displaying our products and services. We will be at other shows as well throughout the year. Look for our booth. We look forward to seeing you and introducing ourselves to you.
Our offices in Johnstown, CO are always open and we welcome anyone who wants to stop in and visit our facilities. We can provide any demonstrations and a tour at any time.
April 24-27: SEI - Liberal, KS
May 15-17: ISHM - Oklahoma City, OK
May 22-23: Energy Exposition - Loveland, CO
Sep 12-13: Wyoming Natural Gas Fair - Casper, Wy
October 16-18: PBIOS - Odessa, TX